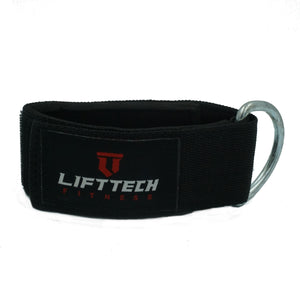 MULTIPURPOSE GYM EXERCISE ROUTINES: Pro Ankle straps can be used with most standard cable systems, functional and resistance trainers, and similar equipment for leg extension, leg curls, hip abductors, and glute workouts.
FUNCTION: Pro Ankle straps are secured with heavy duty material, making this strap extremely easy to adjust, put on, and take off. This strap adjusts to fit any ankle size effortlessly. This strap was designed for beginners to intermediate level fitness enthusiasts (light to medium weight support).
STRONG, STABLE RESILIENCE: We use a sweat resistant, breathable neoprene ankle cuff that's easier on your body, reinforced steel double D ring and double stitching to ensure long lasting equipment strength, and wide fastening comfort.
TONE & BURN: Bring your workout to the next level with new exercises, such as: Cable Kickbacks, Cable Hip Abduction & Adduction, Cable Leg Mountain Climbers, Cable Lunges, Inner & Outer Thigh Contractions. And many more! Improve your leg workouts and see the difference you can make in your strength and appearance of your glutes, hamstrings, and quads.